3D Driving School 5 Europe Edition MultiLingual
144 MB
3d
sürücü okulu birbirini etkileyen, etkileyici çalışma ve bir yarışın
heyecanını birleştiriyor. Şehir ve ülke yollarında araba sürüp beceri
ve tepkinizi geliştiren 21 egzersiz sürücü okulunun temin ettiği 3d ile
sınav için hazırlanın.
Sürüşe ülkeler yoluyla Belçika, Almanya, Fransa, Hollanda ve İngiltere tercihleri ile karşınızda.
3d
sürücü okulu grafik ve sesleri ile mükemmel bir izlenim bırakıyor.
Tamamen gerçekçiliğe yakın olmak için ortam atmosferi iyi düzenlenmiş.
Siz hariç hiç kimse trafik kurallarını ihlal etmiyor.
3D
Driving-School combines interactive driving training and excitement of
a race. 3D Driving-School provides 21 exercises developing driving
skills and reaction on city- and country-roads, and preparing for an
examination. We drive across Europe to get ready for such a trip, or
just to play and get some pleasure
Features:
The countries to
drive through are Belgium, Germany, France, the Netherlands, and Great
Britain. As you see, we can try both right- and left-side driving. Do
you remember the joke about a European Blond, fascinated by London's
sightseeing while going by taxi, and suddenly finding herself sitting
at the driver's place, moving on the centre strip and not having a
wheel to turn away? Personally I find trips through Paris, London and
Berlin especially interesting, though driving on country-roads surely
has its fans too.
Though gripping and entertaining, 3D
Driving-School, first of all, helps prepare for a driving test. It
supports keyboard, joystick and wheel. The latter is advisable to
really turn a game into a simulator. There are 3 levels of proficiency:
Rookie, Beginner (learning without mirrors and looking around), and
Normal (actually preparing for the examination). You can choose a
vehicle among some cars and motor cycles
The Options section
allows to set keys for driving actions, test your joystick or wheel,
tune engine and driving noise, as well as the sound of instructions,
etc. Instructions are available in English, French and German. During
the first 10 exercises we train basic driving skills in a small town
Gobesdorf. And here we can choose traffic rules of different countries
France, Germany, Belgium, and the Netherlands.
3D
Driving-School's graphics and sounds produce an excellent impression.
To become fully realistic, the atmosphere of driving lacks just one
element - nobody except you violates traffic rules. As for the rest,
the necessity to simultaneously keep to traffic rules, watch the speed
and deal with oncoming traffic and pedestrians develops reaction, grips
attention and arouses interest. Country-side roads are picturesque and
not that easy to deal with.
The development section gives an
evaluation of your present driving skills. I turned out to be a worse
driver here than in reality. At least, I hope so. Pressing the Diploma
button, you get a list of possible faults and the amount of penalty
points you managed to get at a certain level. If you have passed all
exercises at the "normal" level meaning not more then 60 points in
total, you are allowed to take a driving test.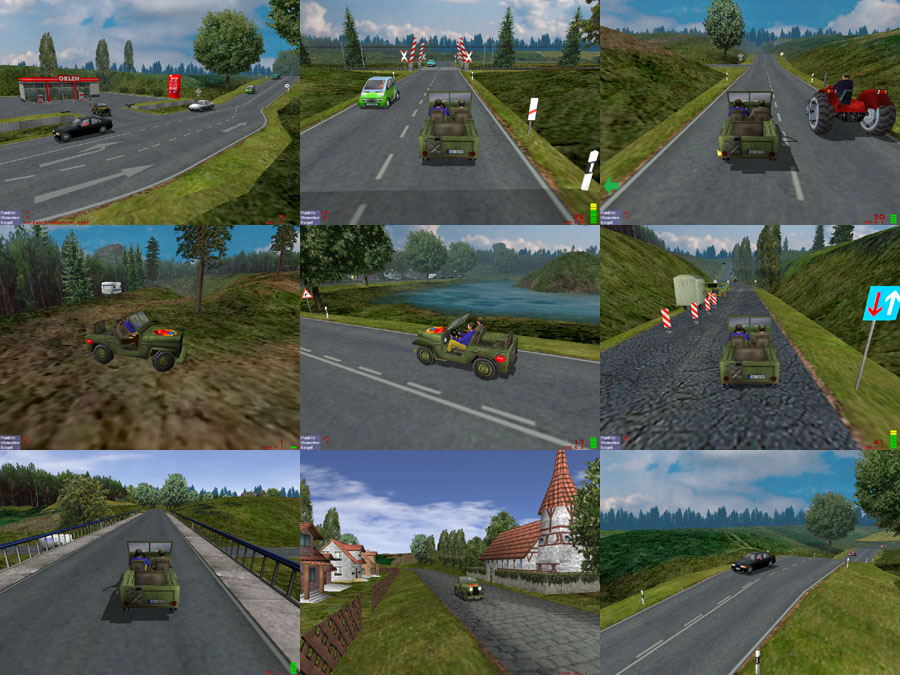 What 's news in Version 5.0?
Version 5.0 with 23 exercises in different languages:
* Basic driving training in our small town Gobesdorf
* Driving in a German city: Berlin with 3 exercises
* A large European motorway (DE,FR,NL)
* Driving on the left side in London
* Driving thriugh historical Gent including a police game with 15 chases
* Nice trips through Paris including defensive training
* Night-drive in Madrid
* Big and very realistic country-road
And additionally:
* You may switch between different traffic- rules for: France, Netherlands, Belgium, and Germany
* Six driving instructors speaking English/French/German
* Five car cockpits BMW, Smart, Toyota, and Jeep
* Four motorbike cockpits (Hornet, BMW, Scooter and a cool Chopper)
* Two quads
* Free driving in all cities and on all street possible
[url=http://anonym.to/?http://www.3d-driving.com]